About the Book
About the Book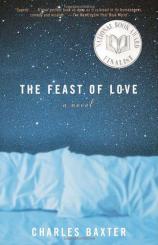 From "one of our most gifted writers" (Chicago Tribune), here is a superb new novel that delicately unearths the myriad manifestations of extraordinary love between ordinary people.
The Feast of Love is just that -- a sumptuous work of fiction about the thing that most distracts and delights us. In a re-imagined Midsummer Night's Dream, men and women speak of and desire their ideal mates; parents seek out their lost children; adult children try to come to terms with their own parents and, in some cases, find new ones.
In vignettes both comic and sexy, the owner of a coffee shop recalls the day his first wife seemed to achieve a moment of simple perfection, while she remembers the women's softball game during which she was stricken by the beauty of the shortstop. A young couple spends hours at the coffee shop fueling the idea of their fierce love. A professor of philosophy, stopping by for a cup of coffee, makes a valiant attempt to explain what he knows to be the inexplicable workings of the human heart Their voices resonate with each other -- disparate people joined by the meanderings of love -- and come together in a tapestry that depicts the most irresistible arena of life. Crafted with subtlety, grace, and power, The Feast of Love is a masterful novel.
The Feast of Love
by Charles Baxter
Publication Date: May 1, 2001
Paperback: 308 pages
Publisher: Vintage
ISBN-10: 037570910X
ISBN-13: 9780375709104