About the Book
About the Book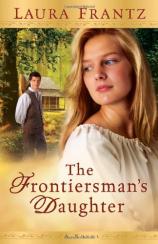 One woman searches for love --- and herself --- in a wild land.
Lovely and high-spirited, Lael Click is the daughter of a celebrated frontiersman. Haunted by her father's ties to the Shawnee Indians and her family's past, Lael comes of age in the fragile Kentucky settlement her father founded. As she faces the many trials of life on the frontier, Lael draws strength from the rugged land. But the arrival of a handsome doctor threatens her view of her world, her God, and herself. Can the power of grace and redemption break through in this tumultuous place?
This epic novel gives you a glimpse into the simple yet daring lives of the pioneers who first crossed the Appalachians, all through the courageous eyes of a determined young woman who would not be defeated.
The Frontiersman's Daughter
by Laura Frantz
Publication Date: August 1, 2009
Genres: Christian, Historical Romance
Paperback: 416 pages
Publisher: Revell
ISBN-10: 0800733398
ISBN-13: 9780800733391