About the Book
About the Book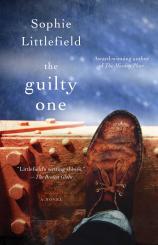 A man stands on the Golden Gate Bridge, poised to jump…if a woman on the other end of the phone tells him to.
Maris's safe suburban world was shattered the day her daughter was found murdered, presumably at the hands of the young woman's boyfriend. Her marriage crumbling, her routine shattered, Maris walks away from her pampered life as a Bay Area mom the day she receives a call from Ron, father of her daughter's killer. Wracked with guilt over his son's actions (and his own possible contribution to them), he asks Maris a single question: Should he jump?
With a man's life in her hands, Maris must decide, perhaps for the first time, what she truly wants. Retribution? Forgiveness? Or something more? Having lost everything, she's finally free to recreate herself without the confining labels of "wife," "mother" or "mourner." But will this shocking offer free her --- or destroy her?
The Guilty One
by Sophie Littlefield
Publication Date: August 11, 2015
Paperback: 304 pages
Publisher: Gallery Books
ISBN-10: 1476757836
ISBN-13: 9781476757834