About the Book
About the Book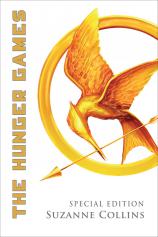 This Special Edition of THE HUNGER GAMES includes the most extensive interview Suzanne Collins has given since the publication of THE HUNGER GAMES, featuring an absorbing behind-the-scenes look at the creation of the series; an engaging archival conversation between Suzanne Collins and YA legend Walter Dean Myers on writing about war; and a timeline of highlights from the first 10 years of THE HUNGER GAMES. The Special Edition answers many questions fans have had over the years, and gives great insight into the creation of this era-defining work.
In this gripping young adult novel set in a future with unsettling parallels to our present, the nation of Panem consists of a shining Capital surrounded by twelve outlying Districts, in the ruins of the area once known as North America. Sixteen-year-old Katniss and her friend Gale forage for food in the woods surrounding their impoverished District, in this stratified society where the Capital controls all resources. The main support for both their families, Katniss and Gale are apprehensive of the approaching annual Reaping, when two "tributes" between the ages of 12 and 18 will be chosen by lottery from each of the twelve districts to compete in The Hunger Games, a survival contest on live TV in which teenagers fight to the death and there can be only one victor.
When her beloved younger sister Prim is chosen as one of the "tributes," Katniss volunteers to go in her sister's place. Her fellow tribute from District 12 is Peeta, a boy with whom she soon develops a complicated relationship. After traveling to the Capital and undergoing elaborate training and preparation, Katniss and Peeta are launched into the game. In the terrifying events that follow, Katniss must marshal all her skills to stay alive and all her emotions to remain a caring human being in the face of the stark brutality of the Games.