About the Book
About the Book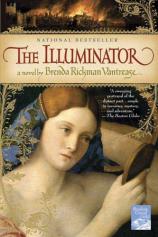 It is England, in the late fourteenth century, a time when the old feudal order is starting to crack, but the whim of a lord or the pleasure of a bishop still has the power to seal nearly anyone's fate. The printing press has yet to be invented; books are rare and costly, painstakingly lettered and illuminated with exquisite paintings.
For Lady Kathryn of Blackingham Manor, a widow and mother trying desperately to safeguard her holdings without the dubious protection of her late husband, it is a time made both sweeter and more perilous by the arrival of a master illuminator called Finn. Caught between the King's taxes and the Church's tithes, Kathryn strikes a bargain with the local abbot: she will take Finn and his pretty young daughter into her household in exchange for the monastery's protection.
Finn is working not only on approved church texts, but secretly --- and dangerously --- on a forbidden English translation of the Bible. As the hesitant friendship between Kathryn and Finn grows into a passionate alliance, wonderful new storyteller Brenda Rickman Vantrease brings us a glorious novel of love, treachery, faith, and redemption on the eve of the Renaissance.