About the Book
About the Book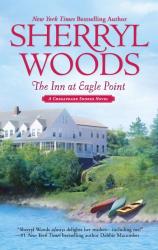 The Inn at Eagle Point launches New York Times bestselling author Sherryl Woods' new Chesapeake Shores series featuring another complex family, another charming town... and the heartfelt emotions you've come to expect from her engaging stories.
In The Inn at Eagle Point, the first of three novels in three months, it's been years since Abby O'Brien Winters set foot in Chesapeake Shores. The Maryland town her father built has too many sad memories, and Abby has too few spare moments, thanks to her demanding career, crumbling marriage and energetic twin daughters. Then one panicked phone call from her youngest sister brings her racing back home to protect Jess's dream of renovating the charming Inn at Eagle Point.
But saving the inn from foreclosure means dealing not only with her own fractured family, but also with Trace Riley, the man Abby left ten years ago. Trace can be a roadblock to her plans... or proof that second chances happen in the most unexpected ways.
Next up in Sherryl's Chesapeake Shores series is May's Flowers on Main, about a writer who returns home to open a flower shop only to find love and professional fulfillment might be waiting where she least expects it. Then in June, Sherryl treats her readers to Harbor Lights, the story of a former army medic and newly single father who moves home in search of peace, only to find an unexpected passion instead.
To learn more about Sherryl and her charming new Chesapeake Shores series visit www.SherrylWoods.com. And while you're there, be sure to check out JustBetweenFriendsBlog.com, where women explore issues of concern to them.
The Inn at Eagle Point
by Sherryl Woods
Publication Date: April 1, 2009
Mass Market Paperback: 400 pages
Publisher: Mira
ISBN-10: 0778326268
ISBN-13: 9780778326267