About the Book
About the Book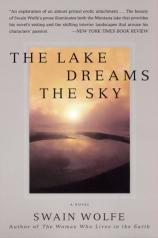 The Lake Dreams the Sky is set near a deep mountain lake in Montana. After twenty-three years away, Liz, a Boston businesswoman, returns to visit her eccentric grandmother, seeking solace from the lake that made her first believe the world was alive and aware.
Among her long-stored treasures she finds a primitive painting of a woman that reminds her of a legend from childhood; a romance about lovers whose passion sets the lake on fire. The heart of the novel is that love story, of a post-World War II affair between Rose, a local waitress raised by Indians, and a drifter named Cody. Their defiance of society's unwritten rules makes these lovers outlaws in an unforgiving time.
The Lake Dreams the Sky indelibly conjures a landscape of passion, shifting perception, and the visceral longings that shape our lives.
The Lake Dreams the Sky
by Swain Wolfe
Publication Date: August 30, 2012
Paperback: 352 pages
Publisher: Harper Perennial
ISBN-10: 0060929936
ISBN-13: 9780060929930