About the Book
About the Book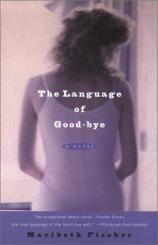 When starting a new marriage or a new life in another country how do you relinquish the past so that you may successfully begin anew without losing a sense of who you have become? What is the cost of leaving a country, a child, a marriage? What is the cost of not leaving? These are the questions Maribeth Fischer asks in The Language of Good-bye, an accomplished, provocative debut novel.
For Annie and Will, who have left their marriages to be together, the future is fraught with the complications of starting over. Both have left pieces of themselves behind: For Annie, it is the husband and friend she has known since childhood; for Will, it is the five-year-old daughter he adores. And for the Korean-born Sungae, one of Annie's English-as-a-second-language students, it is a search for the words that will help her resolve the sorrows of her tragic past.
As Sungae struggles with the new language and with her memories, her story begins to unravel in ways that will have consequences not only for Sungae, but for Annie and Will as well as their ex's. At its heart, this is a novel about the choices we make and the repercussions of those choices on ourselves and on others. As Sungae explains, "Duty is like an ancient tree which has survived many seasons. Love is only the blossom." In one way or another, success in their new lives depends on each character's ability to find their own balance between desire and obligation.
The Language of Good-Bye
by Maribeth Fischer
Publication Date: March 26, 2002
Genres: Fiction
Paperback: 352 pages
Publisher: Plume
ISBN-10: 0452283094
ISBN-13: 9780452283091