Excerpt
Excerpt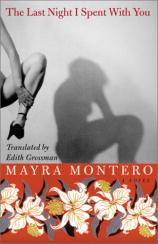 Burbujas de amor
Bubbles of Love
"She hasn't died." She paused. "She's gotten married -- come to think of it, that may be worse."
Celia burst into laughter, her bare breasts trembled, and in a final maternal gesture she put her hand between my legs, found me with her fingers, and gave me a circular caress, free now of all desire, a grateful, gentle caress, like the faithful licking of an animal. Then she wrapped herself around me, as she usually did, and fell asleep. We hadn't slept naked for many years, and at first I was intimidated by the touch of her open, placid sex that clung to my thigh with a soft little sucking sound. A few minutes earlier we had made love as it's made after twenty-five years of marriage, which is to say, as if we were packing suitcases. Celia was a little tight. It was our first night on board, we danced a bolero, and she even whispered a phrase more painful to me than any other: "Alone at last." That was when I thought about Elena, thought about the dream I had on her wedding night, and closed my eyes. I held Celia close and she rubbed her belly against mine, encouraged by the dim light and the attitude of the other couples, more or less our age, who were encouraged in turn by seeing us. Then she licked my ear and repeated the phrase. At last we were alone, it was true, after almost twenty-three years of winters and vacations, springs and birthdays, when Elena had been the axis of our lives. Elena growing up, becoming pretty, becoming taller than Celia, much more slender, infinitely more flirtatious. Our daughter Elena.
It was not the first time we had chosen to travel by ship. Our daughter had accompanied us when we sailed the Gulf of Mexico -- a short cruise: Tampa, New Orleans, sweet Campeche -- and she was almost fifteen when we sailed up the California coast, a splendid trip that brought us to Alaskan waters. But this time it was a much more ambitious cruise, the Caribbean tour we had dreamed about for half a lifetime, with stops at islands nobody else had stopped at. After all, which of our friends, even the best-traveled among them, had ever bathed in the turbulent coves of Marie Galante? Not to mention a brief call at Antigua and the happy conclusion, the culminating moment of the trip, that would take place when we docked at Martinique.

I tried to free my thigh from the leech's caress of Celia's warm crotch. She stirred in her sleep and I feared the worst. But she didn't wake. I covered her with the sheet and groped for my pack of cigarettes. Bermúdez, who knows about these things -- he hasn't been married three times for nothing -- warned me before we left: women lose their inhibitions on ships. It has nothing to do with age or how many years they've lived with you, nothing to do with being overweight or having grandchildren. It may have something to do with a hopeless claustrophobia that goes to their heads as soon as the ship raises anchor. Bermúdez himself was the one who got me the maps and suggested sailing dates, since it wasn't a good idea to risk hurricane season. "From June to November," he said, "the Caribbean is a devil." The man has the virtue of being excited by someone else's adventures, the delicacy to endorse them, and most of all, the great advantage of having experienced them himself. That may be why he's such a good friend. One day when Celia stopped in to see me at the office, he spoke to her ironically about the dizzying effect the sea has on couples: "The open sea, naturally, when terra firma's lost from view." Celia smiled; she was too preoccupied with preparations for our daughter's wedding. "Celita," he said, indulging his mania for diminutives, "as soon as you breathe in the scent of shellfish, you'll turn into a lioness." It was another of Bermúdez's theories: warm waters, the sea of the Antilles most of all, smelled of decomposing shellfish. "And decomposing shellfish, as you know, is the scent of woman."
Elena was married in March. The groom chose his own birthday for the wedding. And she happily agreed, and her mother agreed, and I myself agreed, devastated to see her ruin her life by joining forever with that young scoundrel who for more than two years had been butchering her with impunity in the backseat of his car. I used to spy on them in the middle of the night, hiding behind the blinds when he brought her home. First Elena would get out, look all around, and climb back in though the rear door; then he did the same, less cautiously, unzipping his pants before plunging in for the kill. Half an hour later they would reemerge, one on each side of the car, Elena pale as she straightened her skirt, and he more serene, tucking in his shirt, buckling his belt, and yawning. The next morning I would mention it to Celia, who immediately sided with her daughter; in the car they could talk more freely, she said, and besides, in no time they'd be married. The result was that on their wedding night I dreamed I was in Alberto's car -- my son-in-law's name is Alberto -- and now I was the one butchering a girl, not my daughter but her best friend. I told the dream to Bermúdez as if I were telling a joke, with a sarcastic little laugh, though on the inside I harbored the fear, the nauseating certainty that I was not saying the most important part. "Is she any good?" Bermúdez asked...
Excerpted from The Last Night I Spent With You © Copyright 2002 by Mayra Montero. Reprinted with permission by Ecco. All rights reserved.
The Last Night I Spent With You: A Novel
by by Mayra Montero
paperback: 128 pages
Publisher: Harper Perennial
ISBN-10: 0060934743
ISBN-13: 9780060934743