About the Book
About the Book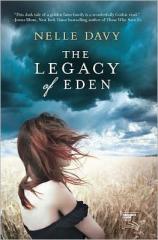 For generations, Aurelia was the crowning glory of more than three thousand acres of Iowa farmland and golden cornfields. The estate was a monument to matriarch Lavinia Hathaway's dream to elevate the family name --- no matter what relative or stranger she had to destroy in the process. It was a desperation that wrought the downfall of the Hathaways --- and the once-prosperous farm.
Now the last inhabitant of the decaying old home has died --- alone. None of the surviving members of the Hathaway family want anything to do with the farm, the land or the memories.
Especially Meredith Pincetti. Now living in New York City, for seventeen years Lavinia's youngest grandchild has tried to forget everything about her family and her past. But with the receipt of a pleading letter, Meredith is again thrust into conflict with the legacy that destroyed her family's once-great name.
Back at Aurelia, Meredith must confront the rise and fall of the Hathaway family...and her own part in their mottled history.
The Legacy of Eden
by Nelle Davy
Publication Date: January 31, 2012
Genres: Fiction
Paperback: 384 pages
Publisher: Mira
ISBN-10: 0778329550
ISBN-13: 9780778329558