Excerpt
Excerpt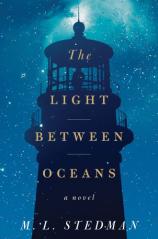 Thousands of miles away on the west coast, Janus Rock was the furthest place on the continent from Tom's childhood home in Sydney. But Janus Light was the last sign of Australia he had seen as his troopship steamed for Egypt in 1915. The smell of the eucalypts had wafted for miles offshore from Albany, and when the scent faded away he was suddenly sick at the loss of something he didn't know he could miss. Then, hours later, true and steady, the light, with its five-second flash, came into view—his homeland's furthest reach—and its memory stayed with him through the years of hell that followed, like a farewell kiss. When, in June 1920, he got news of an urgent vacancy going on Janus, it was as though the light there were calling to him.
Teetering on the edge of the continental shelf, Janus was not a popular posting. Though its Grade One hardship rating meant a slightly higher salary, the old hands said it wasn't worth the money, which was meager all the same. The keeper Tom replaced on Janus was Trimble Docherty, who had caused a stir by reporting that his wife was signaling to passing ships by stringing up messages in the colored flags of the International Code. This was unsatisfactory to the authorities for two reasons: first, because the Deputy Director of Lighthouses had some years previously forbidden signaling by flags on Janus, as vessels put themselves at risk by sailing close enough to decipher them; and secondly, because the wife in question was recently deceased.
Considerable correspondence on the subject was generated in triplicate between Fremantle and Melbourne, with the Deputy Director in Fremantle putting the case for Docherty and his years of excellent service, to a Head Office concerned strictly with efficiency and cost and obeying the rules. A compromise was reached by which a temporary keeper would be engaged while Docherty was given six months' medical leave.
"We wouldn't normally send a single man to Janus—it's pretty remote and a wife and family can be a great practical help, not just a comfort," the District Officer had said to Tom. "But seeing it's only temporary… You'll leave for Partageuse in two days," he said, and signed him up for six months.
There wasn't much to organize. No one to farewell. Two days later, Tom walked up the gangplank of the boat, armed with a kit bag and not much else. The SS Prometheus worked its way along the southern shores of Australia, stopping at various ports on its run between Sydney and Perth. The few cabins reserved for first-class passengers were on the upper deck, toward the bow. In third class, Tom shared a cabin with an elderly sailor. "Been making this trip for fifty years—they wouldn't have the cheek to ask me to pay. Bad luck, you know," the man had said cheerfully, then returned his attention to the large bottle of over-proof rum that kept him occupied. To escape the alcohol fumes, Tom took to walking the deck during the day. Of an evening there'd usually be a card game belowdecks.
You could still tell at a glance who'd been over there and who'd sat the war out at home. You could smell it on a man. Each tended to keep to his own kind. Being in the bowels of the vessel brought back memories of the troopships that took them first to the Middle East, and later to France. Within moments of arriving on board, they'd deduced, almost by an animal sense, who was an officer, who was lower ranks; where they'd been.
Just like on the troopships, the focus was on finding a bit of sport to liven up the journey. The game settled on was familiar enough: first one to score a souvenir off a first-class passenger was the winner. Not just any souvenir, though. The designated article was a pair of ladies' drawers. "Prize money's doubled if she's wearing them at the time."
The ringleader, a man by the name of McGowan, with a mustache, and fingers yellowed from his Woodbines, said he'd been chatting to one of the stewards about the passenger list: the choice was limited. There were ten cabins in all. A lawyer and his wife—best give them a wide berth; some elderly couples, a pair of old spinsters (promising), but best of all, some toff's daughter traveling on her own.
"I reckon we can climb up the side and in through her window," he announced. "Who's with me?"
The danger of the enterprise didn't surprise Tom. He'd heard dozens of such tales since he got back. Men who'd taken to risking their lives on a whim—treating the boom gates at level crossings as a gallop jump; swimming into rips to see if they could get out. So many men who had dodged death over there now seemed addicted to its lure. Still, this lot were free agents now. Probably just full of talk.
The following night, when the nightmares were worse than usual, Tom decided to escape them by walking the decks. It was two a.m. He was free to wander wherever he wanted at that hour, so he paced methodically, watching the moonlight leave its wake on the water. He climbed to the upper deck, gripping the stair rail to counter the gentle rolling, and stood a moment at the top, taking in the freshness of the breeze and the steadiness of the stars that showered the night.
Out of the corner of his eye, he saw a glimmer come on in one of the cabins. Even first-class passengers had trouble sleeping sometimes, he mused. Then, some sixth sense awoke in him—that familiar, indefinable instinct for trouble. He moved silently toward the cabin, and looked in through the window.
In the dim light, he saw a woman flat against the wall, pinned there even though the man before her wasn't touching her. He was an inch away from her face, with a leer Tom had seen too often. He recognized the man from belowdecks, and remembered the prize. Bloody idiots. He tried the door, and it opened.
"Leave her alone," he said as he stepped into the cabin. He spoke calmly, but left no room for debate.
The man spun around to see who it was, and grinned when he recognized Tom. "Christ! Thought you were a steward! You can give me a hand, I was just—"
"I said leave her alone! Clear out. Now."
"But I haven't finished. I was just going to make her day." He reeked of drink and stale tobacco.
Tom put a hand on his shoulder, with a grip so hard that the man cried out. He was a good six inches shorter than Tom, but tried to take a swing at him all the same. Tom seized his wrist and twisted it. "Name and rank!"
"McKenzie. Private. 3277." The unrequested serial number followed like a reflex.
"Private, you'll apologize to this young lady and you'll get back to your bunk and you won't show your face on deck until we berth, you understand me?"
"Yes, sir!" He turned to the woman. "Beg your pardon, Miss. Didn't mean any harm."
Still terrified, the woman gave the slightest nod.
"Now, out!" Tom said, and the man, deflated by sudden sobriety, shuffled from the cabin.
"You all right?" Tom asked the woman.
"I—I think so."
"Did he hurt you?"
"He didn't…"—she was saying it to herself as much as to him—"he didn't actually touch me."
He took in the woman's face—her gray eyes seemed calmer now. Her dark hair was loose, in waves down to her arms, and her fists still gathered her nightgown to her neck. Tom reached for her dressing gown from a hook on the wall and draped it over her shoulders.
"Thank you," she said.
"Must have got an awful fright. I'm afraid some of us aren't used to civilized company these days."
She didn't speak.
"You won't get any more trouble from him." He righted a chair that had been overturned in the encounter. "Up to you whether you report him, Miss. I'd say he's not the full quid now."
Her eyes asked a question.
"Being over there changes a man. Right and wrong don't look so different any more to some." He turned to go, but put his head back through the doorway. "You've got every right to have him up on charges if you want. But I reckon he's probably got enough troubles. Like I said—up to you," and he disappeared through the door.