About the Book
About the Book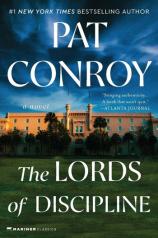 THE LORDS OF DISCIPLINE is a novel about coming of age, brotherhood, betrayal and a man's forging of his own personal code of honor.
Will McLean, a senior on the cadets' honor court, is an outsider by nature: a basketball star at a school that prizes military prowess above athletics, a military man in training who dares to question the escalating Vietnam war. And yet his greatest struggle will be with the corrupt institution of which he is a part.
Rich in humor and suspense, abounding in a rare honesty and generosity of feeling, this novel established Pat Conroy as one of the strongest fictional voices in a generation.
The Lords of Discipline
by Pat Conroy
Publication Date: December 20, 2022
Genres: Fiction
E-book: 496 pages
Publisher: Mariner Books Classics
ISBN-10: 0063323656
ISBN-13: 9780063323650