Excerpt
Excerpt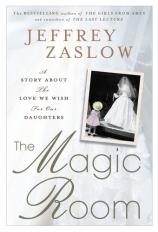 One hundred miles northwest of my home, in a tiny, rural town with one stoplight, I found a place where 100,000 daughters, along with their mothers and fathers, have found themselves reflecting on the word "love."
It's a place where, every day, parents can't help but be enveloped by a swell of emotion as they think back to the love they felt when their daughters were little girls. They think ahead, too, contemplating the love needed to carry their daughters onward from here. These parents know the disappointments and betrayals associated with the word "love," especially these days. They know the losses that define life. Still, most make their pilgrimage here with a sense of hope and optimism.
For the daughters, usually women in their twenties, this is a place that makes clear they are at a crossroads. They have so much on their minds—"love" being at the forefront, usually—but they also can be distracted, impulsive, naïve, and fearful. Each of them has a story that brought them here. Not all will find happiness after they leave.
I never knew that all of this emotion was so well concentrated in one spot, a ninety-minute drive from my house in suburban Detroit. But once I started coming here, to watch and listen, I often found myself caught up in the swell of my own parental feelings, as the father of three daughters. For all of us who desperately wish that our girls will go through life safe, happy, and surrounded by love, time spent here offers visceral reminders of the challenges our girls face, of the ways in which sadness is so often intertwined with their joy, and of the sweet possibilities that await them—or that may be beyond their grasp.
What is this place?
Put simply, it is a room . . . in a building . . . in this very small town.
The town is Fowler, Michigan, a middle-class community with 1,100 residents --- and 2,500 wedding dresses.
The building is Becker's Bridal, the largest business in town, and home to all those dresses --- a "blizzard of white" squeezed tightly on three floors of crowded racks.
And the room? That's up a short flight of stairs and over to the left, on the second level of Becker's. Each wall of the ten-foot-by-eight-foot space has a floor-to-ceiling mirror designed to carry a bride's image into infinity. They call it "The Magic Room," and with good reason.
From the outside, the store looks like an old bank. That's because the two-story, heavy stone structure was built a century ago to house People's Bank, until the bank went under during the Depression. What was once the bank's vault—cleared out of the few stacks of money that remained—is now the Magic Room, a place with soft lighting and a tiled, circular pedestal. This is where brides are taken when they finally decide which of the
2,500 dresses could be "the one."
Becker's sits at the south end of a tired-looking two-block Main Street. The family owned store, led in an unbroken chain of ownership by four generations of Becker women, has been a mainstay at this location since 1934. Over the years, the store has served more than 100,000 brides, many of whom traveled here from across the Midwest. It is a place rich in history, visited by young women who usually know none of it.
Thanks to Becker's Bridal, the town of Fowler has more wedding dresses per capita than any other municipality in the United States, or perhaps in the world. But not many people outside of Michigan have heard of this place, or know anything about the women of Becker's—a daughter, her mother, her grandmother, and her great-grandmother—who built and nurtured the store, guiding all of those brides into all of their dresses for seventy-six years.
As for the Magic Room, the saleswomen at Becker's don't use the word "magic" lightly when talking about it. They routinely watch brides and their mothers melt into tears in this room as they reflect on all the moments in their lives that led them here. After seeing their daughters on that pedestal, fathers are often overcome with emotion too. They excuse themselves, leaving the vault and then the store, so they can compose themselves. Fathers can be seen pacing up and down Main Street in Fowler, blowing their noses and wiping their eyes.
We live in an age when TV reality shows—Say Yes to the Dress, Bridezillas—have drawn attention by showcasing the frenzied pursuit ofthe wedding dress. These programs are framed like sporting events, withbrides bickering and dickering and racing toward a finish line marked bytheir selection of a dress.
Some of this goes on at Becker's, too, of course. But I came here not just to write about wedding gowns and what they represent. I also wantedto understand the women wearing them, their fears and yearnings.
Excerpted from THE MAGIC ROOM: A Story About the Love We Wish for Our Daughters © Copyright 2012 by Jeffrey Zaslow. Reprinted with permission by Gotham. All rights reserved.
The Magic Room: A Story About the Love We Wish for Our Daughters
by by Jeffrey Zaslow
Genres: Marriage, Nonfiction
hardcover: 304 pages
Publisher: Gotham
ISBN-10: 1592406610
ISBN-13: 9781592406616