About the Book
About the Book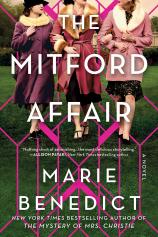 From New York Times bestselling author Marie Benedict comes an explosive novel of history's most notorious sisters, one of whom will have to choose: her country or her sisters?
Between the World Wars, the six Mitford sisters --- each more beautiful, brilliant and eccentric than the next --- dominate the English scenes. Though they've weathered scandals before, the family falls into disarray when Diana divorces her wealthy husband to marry a fascist leader and Unity follows her sister's lead all the way to Munich, inciting rumors that she's become Hitler's mistress.
As the Nazis rise in power, novelist Nancy Mitford grows suspicious of her sisters' constant visits to Germany and the high-ranking fascist company they keep. When she overhears alarming conversations and uncovers disquieting documents, Nancy must make excruciating choices as Great Britain goes to war with Germany.
Probing the torrid political climate in the lead-up to WWII and the ways that seemingly sensible people can be sucked into radical action, THE MITFORD AFFAIR follows Nancy's valiant efforts to stop the Nazis from taking over Great Britain, choosing between loyalty to her country and allegiance to her family, and forcing her to learn exactly how personal is the political.