Excerpt
Excerpt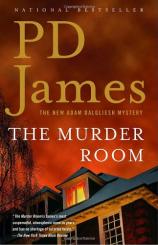 On Friday 25 October, exactly one week before the first body was discovered at the Dupayne Museum, Adam Dalgliesh visited the museum for the first time. The visit was fortuitous, the decision impulsive and he was later to look back on that afternoon as one of life's bizarre coincidences which, although occurring more frequently than reason would expect, never fail to surprise.
He had left the Home Office building in Queen Anne's Gate at two-thirty after a long morning meeting only briefly interrupted by the usual break for brought-in sandwiches and indifferent coffee, and was walking the short distance back to his New Scotland Yard office. He was alone; that too was fortuitous. The police representation at the meeting had been strong and Dalgliesh would normally have left with the Assistant Commissioner, but one of the Under Secretaries in the Criminal Policy Department had asked him to look in at his office to discuss a query unrelated to the morning's business, and he walked unaccompanied. The meeting had produced the expected imposition of paperwork and as he cut through St James's Park Underground station into Broadway he debated whether to return to his office and risk an afternoon of interruptions or to take the papers home to his Thames-side flat and work in peace.
There had been no smoking at the meeting but the room had seemed musty with spent breath and now he took pleasure in breathing fresh air, however briefly. It was a blustery day but unseasonably mild. The bunched clouds were tumbling across a sky of translucent blue and he could have imagined that this was spring except for the autumnal sea-tang of the river -- surely half imagined -- and the keenness of the buffeting wind as he came out of the station.
Seconds later he saw Conrad Ackroyd standing on the kerb at the corner of Dacre Street and glancing from left to right with that air of mingled anxiety and hope typical of a man waiting to hail a taxi. Almost immediately Ackroyd saw him and came towards him, both arms outstretched, his face beaming under a wide-brimmed hat. It was an encounter Dalgliesh couldn't now avoid and had no real wish to. Few people were unwilling to see Conrad Ackroyd. His perpetual good humour, his interest in the minutiae of life, his love of gossip and above all his apparent agelessness were reassuring. He looked exactly the same now as he had when Dalgliesh and he had first met decades earlier. It was difficult to think of Ackroyd succumbing to serious illness or facing personal tragedy, while the news that he had died would have seemed to his friends a reversal of the natural order. Perhaps, thought Dalgliesh, that was the secret of his popularity; he gave his friends the comforting illusion that fate was beneficent. As always, he was dressed with an endearing eccentricity. The fedora hat was worn at a rakish angle, the stout little body was encased in a plaid tweed cloak patterned in purple and green. He was the only man Dalgliesh knew who wore spats. He was wearing them now.
'Adam, lovely to see you. I wondered whether you might be in your office but I didn't like to call. Too intimidating, my dear. I'm not sure they'd let me in, or if I'd get out if they did. I've been lunching at a hotel in Petty France with my brother. He comes to London once a year and always stays there. He's a devout Roman Catholic and the hotel is convenient for Westminster Cathedral. They know him and are very tolerant.'
Tolerant of what? wondered Dalgliesh. And was Ackroyd referring to the hotel, the Cathedral, or both? He said, 'I didn't know you had a brother, Conrad.'
'I hardly know it myself, we meet so seldom. He's something of a recluse.' He added, 'He lives in Kidderminster,' as if that fact explained all.
Dalgliesh was on the point of making tactful murmurings of imminent departure when his companion said, 'I suppose, dear boy, I couldn't bend you to my will? I want to spend a couple of hours at the Dupayne Museum in Hampstead. Why not join me? You know the Dupayne of course?'
'I've heard of it but never visited.'
'But you should, you should. It's a fascinating place. Dedicated to the inter-war years, 1919 --- 1938. Small but comprehensive. They have some good pictures: Nash, Wyndham Lewis, Ivon Hitchens, Ben Nicholson. You'd be particularly interested in the library. First editions and some holographs and, of course, the inter-war poets. Do come.'
'Another time, perhaps.'
'You never manage another time, do you? But now I've caught you, regard it as fate. I'm sure you have your Jag tucked up somewhere in the Met's underground garage. We can drive.'
'You mean I can drive.'
'And you'll come back to Swiss Cottage for tea, won't you? Nellie will never forgive me if you don't.'
'How is Nellie?'
'Bonny, thank you. Our doctor retired last month. After twenty years together it was a sad parting. Still, his successor seems to understand our constitutions and it might be as well to have a younger man.'
Conrad and Nellie Ackroyd's marriage was so well established that few people now bothered to wonder at its incongruity or to indulge in prurient speculation about its possible consummation. Physically they could hardly have been more different. Conrad was plump, short and dark with inquisitive bright eyes and moved as sprightly as a dancer on small nimble feet. Nellie was at least three inches taller, pale-skinned and flat-chested, and wore her fading blonde hair curled in plaits on each side of her head like earphones. Her hobby was collecting first editions of 1920s and 1930s girls' school stories. Her collection of Angela Brazils was regarded as unique. Conrad and Nellie's enthusiasms were their house and garden, meals -- Nellie was a superb cook -- their two Siamese cats and the indulgence of Conrad's mild hypochondria. Conrad still owned and edited The Paternoster Review, notable for the virulence of its unsigned reviews and articles. In private life he was the kindest of Jekylls, in his editorial role an unrepentant Hyde.
A number of his friends whose wilfully overburdened lives inhibited the enjoyment of all but necessary pleasures somehow found time to take afternoon tea with the Ackroyds in their neat Edwardian villa in Swiss Cottage with its comfortable sitting-room and atmosphere of timeless indulgence. Dalgliesh was occasionally among them. The meal was a nostalgic and unhurried ritual. The delicate cups with their handles aligned, the thin brown bread and butter, bite-size cucumber sandwiches and homemade sponge and fruit cakes made their expected appearance, brought in by an elderly maid who would have been a gift to a casting agent recruiting actors for an Edwardian soap opera. To older visitors the tea brought back memories of a more leisurely age and, to all, the temporary illusion that the dangerous world was as susceptible as was this domesticity to order, reason, comfort and peace. To spend the early evening gossiping with the Ackroyds would, today, be unduly self-indulgent. All the same, Dalgliesh could see that it wouldn't be easy to find a valid excuse for refusing to drive his friend to Hampstead. He said, 'I'll drive you to the Dupayne with pleasure, but I might not be able to stay if you plan a long visit.'
'Don't worry, dear boy. I'll get a cab back.'
Excerpted from The Murder Room © Copyright 2005 by P. D. James. Reprinted with permission by Vintage, a division of Random House, Inc. All rights reserved.
The Murder Room: An Adam Dalgliesh Mystery
by by P. D. James