About the Book
About the Book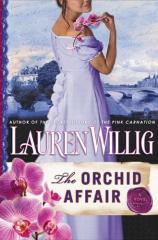 A governess trades the quiet life for adventure and danger --- and romance --- in this latest installment to Lauren Willig's beloved and bestselling Pink Carnation series.
In The Orchid Affair, Willig introduces her strongest heroine yet. Laura Grey, a veteran governess, joins the Selwick Spy School expecting to find elaborate disguises and thrilling exploits in service to the spy known as the Pink Carnation. She hardly expects her first assignment to be serving as governess for the children of Andre Jaouen, right-hand man to Bonaparte's minister of police. Jaouen and his arch rival, Gaston Delaroche, are investigating a suspected Royalist plot to unseat Bonaparte, and Laura's mission is to report any suspicious findings.
At first the job is as lively as Latin textbooks and knitting, but Laura begins to notice strange behavior from Jaouen --- secret meetings and odd comings and goings. As Laura edges herself closer to her employer, she makes a shocking discovery and is surprised to learn that she has far more in common with Jaouen than she originally thought…
As their plots begin to unravel, Laura and Jaouen are forced on the run with the children, and with the help of the Pink Carnation they escape to the countryside, traveling as husband and wife. But Delaroche will stop at nothing to take down his nemesis. With his men hot on their trail, can Laura and Jaouen seal the fate of Europe before it's too late?
The Orchid Affair
by Lauren Willig
Publication Date: January 20, 2011
Hardcover: 416 pages
Publisher: Dutton Adult
ISBN-10: 0525951997
ISBN-13: 9780525951995