About the Book
About the Book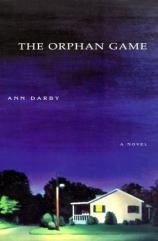 It was 1965 going on '66, a dry year, and on the radio we kept hearing about brush fires out of control in the foothills of the San Gabriel Mountains. A few times we heard the fires burned so close to yards and houses that the people who lived there had to abandon their homes and wait it out in one church or another. And though the fires seemed far away, they were close. Close enough that in the right wind we could smell brush burning. Close enough that on Saturdays when my father wanted to see how I handled a car, he had me drive him toward Azusa, where we could view the range of charred hills.
Thus Maggie's story begins, against the ominous backdrop of burning hills, the Vietnam War, and huge social upheaval looming on the horizon. In many ways Maggie's is a familiar predicament - a 16-year old girl gets pregnant, her boyfriend goes off to war, and getting married is not in the cards. ButThe Orphan Game is a finely nuanced, beautifully wrought tale, and while the premise may sound simple, the novel itself is as richly complicated as life itself.
Much of The Orphan Game revolves around the themes of sex, individuality, and family. The novel's protagonist, Maggie, muses about sex endlessly - what she likes about it, what she doesn't, and what she doesn't understand. She likes the legitimacy and attention that having an older boyfriend gives her, and constantly worries about what her life without him might be like. She understands that to be a girl who "does it, does it, does it" marginalizes her in some important way, but she's not exactly sure why. She slips Bruce's school ring on her wedding finger when her parents aren't around, though she isn't certain she would really want to marry him. It's a complex and changing world that Maggie inhabits in 1965 and, like her parents, she feels the tug of both the liberalism and the conservatism of the times.
Maggie's parents are baffled by their daughter's budding sexuality. When her father voices his displeasure about Maggie's relationship with Bruce, he sexualizes the conversation, using blunt terms in an unflattering, degrading way. He feels acutely his inability to control his daughter's behavior and is concerned about the negative image Maggie could cast on the family because of her relationship with Bruce. But Jim is unaware that trying to verbally humiliate Maggie into submission only erodes her self-confidence and pushes her toward, rather than away from, Bruce. Maggie's mother, on the other hand, is paralyzed by the subject of sex, emotionally unable to offer her any insight into her daughter's predicament, though at times she wishes she could. When Marian discovers Maggie is pregnant, she finds herself in the double bind of wanting to help but lacking the courage to do so.
It is ultimately Maggie's Aunt, Evelyn Rumsen, who shows the way into a world where intimacy, sex, and self-acceptance are all linked. She offers the friendship and support Maggie will need to navigate the contrary forces of her world and undergo the difficult transformation, told so compellingly inThe Orphan Game, from girl to woman.
The Orphan Game
by Ann Darby
Publication Date: August 27, 2012
Paperback: 336 pages
Publisher: Harper Perennial
ISBN-10: 0688177824
ISBN-13: 9780688177829