About the Book
About the Book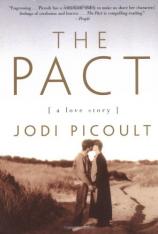 The Golds and the Hartes, neighbors for 18 years, have always been inseparable. So have their children -- and it's no surprise that in high school Chris and Emily's friendship blossoms into something more. But the bonds of family, friendship, and passion -- which had seemed so indestructible -- suddenly threaten to unravel in the wake of unexpected tragedy.
When midnight calls from the hospital come in, no one is ready for the truth. Emily is dead at 17 from a gunshot wound to the head. There's a single unspent bullet in the gun that Chris pilfered from his father's cabinet -- a bullet that Chris tells police he intended for himself. But a local detective has doubts about the suicide pact that Chris describes.
It is a multi-layered novel that invites discussion about the mysteries of relationships of all kinds: How well we know ourselves, our children, our best friends. In the end The Pact poses the heart-stopping question: How far would you go for someone you love?

The Pact: A Love Story
by Jodi Picoult
Publication Date: May 5, 1999
Paperback: 400 pages
Publisher: Harper Perennial
ISBN-10: 0688170528
ISBN-13: 9780688170523