About the Book
About the Book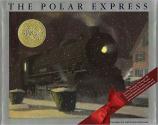 All Aboard!
THE POLAR EXPRESS
On November 10, 2004, this holiday favorite steams into theaters nationwide as the holiday film event of the year! The Polar Express film, starring Tom Hanks and directed by Robert Zemeckis, brings with it a whole new series of books that take their inspiration from Chris Van Allsburg's classic Christmas story.
Since its publication in 1985, Chris Van Allsburg's THE POLAR EXPRESS has touched the hearts of millions of readers, young and old. Whether viewed on the big screen or the printed page, THE POLAR EXPRESS is a heartwarming story about the power of belief that resonates across generations and cultures. We invite you to settle in and take a ride on the Polar Express -- it's a journey you won't soon forget.
NEA's Read Across America, Warner Bros. Pictures and Houghton Mifflin invite teachers and students to participate in The Polar Express Reading Challenge. Click here for information and materials.
© Copyright 2004 by Chris Van Allsburg. Reprinted with permission by Houghton Mifflin. All rights reserved.
The Polar Express
by Chris Van Allsburg
Publication Date: September 28, 2009
Genres: Holiday, Juvenile Fiction
Hardcover: 32 pages
Publisher: Houghton Mifflin Books for Children
ISBN-10: 0395389496
ISBN-13: 9780395389492