About the Book
About the Book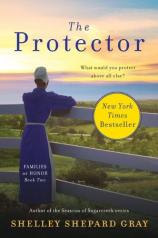 Everyone needs a safe place to call home.
When her mother passes away, Ella's forced to auction off her family's farm. Her father died years ago, and she could never manage the 50 acres on her own. But after she moves to town, she can't deny the pain she feels watching the new owner, Loyal Weaver, repairing her family's old farmhouse --- everything Ella had once dreamed of doing.
What Ella doesn't know is that Loyal secretly hopes she will occupy this house again . . . as his wife. He begins inviting her over, to ask her opinion on changes he wants to make. As their friendship blooms, Ella starts to wonder about Loyal's intentions, especially when her best friend, Dorothy, hints that Loyal is not who he seems. There's no way the golden boy of their close-knit Amish community could be interested in Ella, long the wallflower, hidden away caring for her ailing parents.
Should she trust the man she's always yearned for, or the friend who's always been by her side? When one of them threatens to disrupt the independence she's finally achieved, Ella is faced with a choice. She can protect her heart and keep things the way they've always been. Or she can come out of her shell, risk everything for the love she's always wanted, and finally have a place to call home.