About the Book
About the Book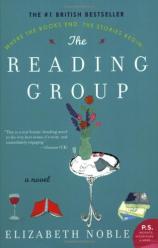 The Reading Group follows the trials and tribulations of a group of women who meet regularly to read and discuss books. Over the course of a year, each of these women become intertwined, both in the books they read and within each other's lives.
Inspired by a shared desire for conversation, a good book and a glass of wine-Clare, Harriet, Nicole, Polly, and Susan undergo startling revelations and transformations despite their differences in background, age and respective dilemmas.
What starts as a reading group gradually evolves into a forum where the women may express their views through the books they read and grow to become increasingly more open as the bonds of friendship cement.
In The Reading Group, Noble reveals the many complicated paths in life we all face as well as the power and importance of friendship.
The Reading Group: A Novel
by Elizabeth Noble
Publication Date: January 4, 2005
Paperback: 429 pages
Publisher: William Morrow Paperbacks
ISBN-10: 0060760443
ISBN-13: 9780060760441