About the Book
About the Book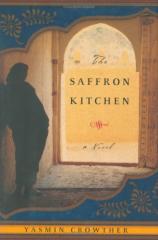 Born to an Iranian mother and British father, Yasmin Crowther makes a unique and impressive debut onto the literary scene with her remarkable novel about culture, family, and identity. The Saffron Kitchen is a poignant and timely story about one woman's struggle to belong to more than one world and how that pull between identities affects a family for generations to come.
Richmond Hill in London is a far cry from where Maryam Mazar was born and raised, the little village of Mazareh in Iran, but this affluent suburb is where she has lived for more than forty years. She has what seems a good and comfortable life, with a devoted husband, Edward, and loving daughter, Sara. But when Maryam's last living sister dies and her twelve-year-old nephew, Saeed, comes from Iran to live with them, his arrival triggers a series of dramatic events, re-opening a wound that Maryam can no longer ignore. She decides there is only one way to heal: she must return home.
With her husband's reluctant blessing, Maryam travels alone to Mazareh to face both the dreams and the demons of her past. Mazareh is in many ways a harsh place, with mud dwellings and little in the way of creature comforts. Yet when Maryam arrives, she begins to feel a sense of peace and wholeness, a connection with the earth, that has been missing for forty years. And perhaps most important, the first love of her life, Ali, her wealthy father's former assistant, is here, awaiting her return. The healing has begun.
Maryam was a girl born before her time, independent and strong-willed, refusing to follow the traditional path for women: marriage and domestic life. Forced to leave Iran after her father disowned her for shaming the family through a misunderstood encounter with Ali, Maryam nevertheless has a powerful bond with this place and its people. But now she must decide if the life that includes her past will now become her future.
Back in London, both Sara and Edward are feeling confused and angry that Maryam seems to have no impending plans to return. How could she abandon her family? When Maryam writes and asks her to visit, Sara feels she must go. She arrives feeling bitter and resentful that her mother is acting as if their life in London is meaningless, especially when she sees Ali and her mother together. But as Maryam introduces Sara to the people and places of her childhood and finally reveals the shocking details of her forced departure, Sara begins to understand her mother in a way she never could before. In the end, Sara comes to accept that only by letting her mother go, can she finally get her mother back.
Exploring the themes of displacement and exile, of families struggling to embrace more than one culture, of longing and despair, The Saffron Kitchen is ultimately a love story, not only between a woman and a man, but of a woman for her homeland.
The Saffron Kitchen
by Yasmin Crowther
Publication Date: December 28, 2006
Hardcover: 272 pages
Publisher: Viking Adult
ISBN-10: 0670038113
ISBN-13: 9780670038114