About the Book
About the Book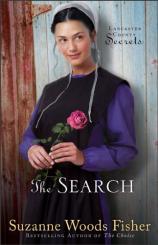 When worlds collide, can the truth set two young women free?
As a child caught up in a crisis, Lainey O'Toole made a split-second decision with far-reaching effects. Fifteen years later, when her car breaks down in Stoney Ridge --- the very town in which that decision was made --- she is forced to face the past and discover how her decision has impacted so many.
Bess Reihl is less than thrilled to be spending the summer at Rose Hill Farm helping her intimidating grandmother Bertha recover from surgery. It doesn't take long for Bess to realize that her grandmother coaxed her to Stoney Ridge for an entirely different reason. But once Bess meets hired hand Billy Lapp, the summer starts to hold some promise. Lainey's and Bess's worlds are about to collide and the secrets that come to light will shock them both.
Beautifully written, The Search is a skillfully woven story that takes you through unexpected twists and turns on the long country road toward truth. Immerse yourself in this heartwarming---and surprising--- tale of young love, forgiveness, and healing.