About the Book
About the Book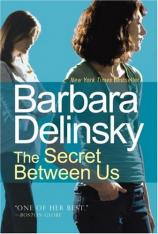 Nothing will break this mother-daughter bond. Not even the truth.
Deborah Monroe and her daughter, Grace, are driving home from a party when their car hits a man running in the dark. Grace was at the wheel, but Deborah sends her home before the police arrive, determined to shoulder the blame for the accident. Her decision then turns into a deception that takes on a life of its own and threatens the special bond between mother and daughter.
The Secret Between Us is an unforgettable story about making bad choices for the right reasons and the terrible consequences of a lie gone wrong. Once again, Barbara Delinksy has delivered a riveting study of family and a superbly crafted novel, perfectly targeted to reading groups and fans of provocative fiction.
The Secret Between Us
by Barbara Delinsky
Publication Date: January 22, 2008
Genres: Fiction
Hardcover: 343 pages
Publisher: Doubleday
ISBN-10: 0385518684
ISBN-13: 9780385518680