About the Book
About the Book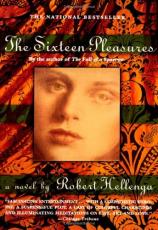 "I was twenty-nine years old when the Arno flooded its banks on Friday 4 November 1966. On Tuesday I decided to go to Italy, to offer my services as a humble book conservator, to save whatever could be saved, including myself."
The Italians called them "Mud Angels," the young foreigners who came to Florence in 1966 to save the city's treasured art from the Arno's flooded banks. American volunteer Margot Harrington was one of them, finding her niche in the waterlogged library of a Carmelite convent. For within its walls she discovered a priceless Renaissance masterwork: a sensuous volume of sixteen erotic poems and drawings.
Inspired to sample each of the ineffable sixteen pleasures, Margot embarks on the intrigue of a lifetime with a forbidden lover and the contraband volume--a sensual, life-altering journey of loss and rebirth in this exquisite novel of spiritual longing and earthly desire.
The Sixteen Pleasures
by Robert Hellenga
Publication Date: May 1, 1995
Paperback: 384 pages
Publisher: Delta
ISBN-10: 0385314698
ISBN-13: 9780385314695