About the Book
About the Book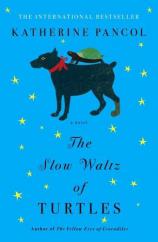 In this mega-bestseller from France and the follow-up to THE YELLOW EYES OF CROCODILES, a woman contends with divorce, family trouble and even murder in her journey to discover who she really is.
Fortysomething mother of two Joséphine Cortès is at a crossroads. She has just moved to a posh new apartment in Paris after the success of the historical novel she ghostwrote for her sister, Iris. Still struggling with her divorce --- the result of her husband running off to Kenya to start a crocodile farm with his mistress --- she is now entangled too in a messy lie orchestrated by her sister. And just when things seem they can't get any more complicated, people start turning up dead in her neighborhood.
As Joséphine struggles to find her voice and her confidence amidst a messy web of relationships and a string of murders, she and those around her must learn to push on with determination, like headstrong little turtles learning to dance slowly in a world that's too violent and moving too fast.
The Slow Waltz of Turtles
by Katherine Pancol
Publication Date: November 1, 2016
Genres: Fiction
Paperback: 432 pages
Publisher: Penguin Books
ISBN-10: 0143128175
ISBN-13: 9780143128175