About the Book
About the Book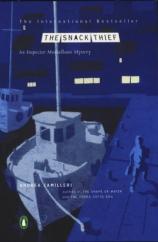 A man of rough language and occasionally rougher methods, Police Inspector Salvo Montalbano is not the first person one would accuse of sentimentality. Yet in The Snack Thief, the third Inspector Montalbano mystery by Andrea Camilleri, the detective faces events that remind him, sometimes uncomfortably, of the inescapable emotional connections that tie even a cynical crime analyst to those around him. Montalbano finds his sympathies aroused when he takes custody of the novel's title character, an abandoned boy named François, who has managed to survive by stealing the snacks of other children on their way to school. These sympathies, however, start to give way to jealousy as François wins the affection of Montalbano's lover, and the insular closeness of woman and boy threatens to leave the inspector the odd man out.
At the same time, Montalbano is working overtime to determine the connection between a pair of nearly simultaneous but seemingly unrelated homicides. On the same morning that a Tunisian patrol boat reportedly opens fire on a Sicilian fishing trawler, killing one of the crew, Mr. Aurelio Lapècora, an aging businessman, is found stabbed to death in the elevator of his apartment building. At the apparent center of all the intrigue is a young Muslim woman named Karima. The cleaning woman at Lapècora's office, Karima is in the practice of performing "extras" for her male clientele. She is also both the mother of the little snack thief and, amazingly, the sister of the dead fisherman. But the center proves to be the empty space in the design, for Karima is nowhere to be found.
In The Snack Thief, Inspector Montalbano is called upon not only to make connections of a deductive nature, but also to attempt those that will require a more humane intelligence and sensitivity. Will the brilliant solver of criminal mysteries also be able to unravel the mysteries of his own heart? Only time and Andrea Camilleri will tell.
The Snack Thief: The Inspector Montalbano Series #3
by Andrea Camilleri
Publication Date: October 28, 2003
Paperback: 304 pages
Publisher: Penguin (Non-Classics)
ISBN-10: 0142003492
ISBN-13: 9780142003497