About the Book
About the Book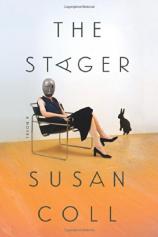 A comedy about rabbits and real estate from the acclaimed novelist Susan Coll, THE STAGER chronicles one family's surreal descent into madness and discord as they attempt to sell their faux "Flemish villa." It's not that they ever loved the house; it's a bloated cruise ship of a McMansion in a soulless suburban enclave, and it's infused with a bad smell. The family's pet rabbit, Dominique, doesn't much like the place either; he's been slowly destroying the house, gnawing on furniture and eating holes in the carpet. When he sees an opportunity to escape, his owner, 10-year-old Elsa, begins to unravel, alarming her parents, who are in London preparing the move into the family's new house.
While the parents --- a former tennis pro who has now become obese and addicted to an alphabet soup of prescription drugs, and his beautiful investment banker wife --- are overseas, a professional home stager, Eve Brenner, is set loose in the house. Eve understands the quick, shallow cosmetic fixes that make a house desirable to a new owner. But when she steps into the foyer, she immediately understands that she should not be here. She recognizes objects of emotional significance that pull her into the past, and into a rabbit hole of emotional treachery that she can neither disguise nor escape.
As questions of sobriety, sanity and fidelity arise, the rabbit emerges as the voice of reason, bringing a sparkling and hilarious conclusion to Coll's portrait of consumption and cutthroat careerism.