About the Book
About the Book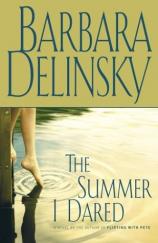 What comes after the moment that changes your life forever?
This is the question that haunts Julia Bechtel, Noah Prine, and Kim Colella, the only survivors of a horrific boating accident off the coast of Maine.
Julia, a 40-year-old wife and mother, has always done exactly what others expect of her. In the aftermath of her brush with death, though, she realizes that there has to be more to life than obedience.
Feeling strangely connected to Noah, the divorced, taciturn lobsterman who helped save her life, and to Kim, a 21-year-old, whose role in the accident -- and subsequent muteness -- are a mystery, Julia begins to explore her feelings in ways she has never done. With each new discovery, she grows ever more sure that after coming face to face with death, she must have more from life.
Set on the picturesque Maine coast, where lobstermen leave with the tides each morning to haul and set traps, and neighbors gather each night to feast on the catch of the day, The Summer I Dared is a story of the risky but rewarding search for self. Ultimately, it is a story of survival, of the irrepressible ability of the human spirit to rebound from disaster and make life anew.
The Summer I Dared
by Barbara Delinsky
Publication Date: August 17, 2012
Genres: Fiction
Hardcover: 368 pages
Publisher: Scribner
ISBN-10: 0743246438
ISBN-13: 9780743246439