About the Book
About the Book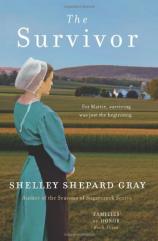 Mattie's body has healed from the cancer that nearly took her life... but can she find the man who can mend her lonely heart?
Mattie has faced more in her 23 years than she ever imagined possible. Having successfully battled cancer, she's ready to reenter the world with hopes for her future. But while she was in and out of hospitals, other Amish girls her age were courting and finding the men they would marry. The only man who's ever made her heart beat faster is Graham Weaver, her best friend, who has always been there to comfort her, in good times and bad. Is it finally time for their friendship to become something more?
But cruel gossip is spreading, claiming that Graham's the father of the baby Jenna Yoder's carrying. Will Mattie's dreams of a happily-ever-after be crushed before they've left the ground?