About the Book
About the Book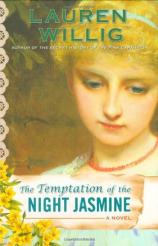 The much anticipated fifth installment in the inventive and original Pink Carnation series

"Pride and Prejudice lives on" in Lauren Willig's acclaimed Pink Carnation series, which continues with another deliciously lighthearted, romantic, and suspenseful novel. Willig introduces to her series the most elusive spy of all time, whose calling card is the faint whiff of jasmine in the cold night air.
After twelve years in India, Robert, duke of Dovedale, returns to his estate in England to avenge the murder of his mentor during the 1803 Battle of Assaye. Robert plans to infiltrate the infamous, secretive Hellfire Club to uncover the murderer's identity --- but he has no idea that an even more difficult challenge awaits him --- one Lady Charlotte Lansdowne.
Having cherished a romanticized view of Robert since childhood, Charlotte is thrilled by his return. To Charlotte, Robert is all the knights of the Round Table rolled into one. That's not exactly the case, but she can't help but search for the man she loves inside this less-than-pristine package. And while Robert works to dissuade Charlotte from her delusions, he can't help but be drawn to her innocence and inner beauty.
When Charlotte is approached by Lady Henrietta Selwick to join her in a bit of espionage --- investigating a plot to kidnap the king --- Robert soon realizes that Charlotte is not only the perfect partner in crime; she's the perfect partner, period. Caught in a dangerous game with deadly flower-named spies and secret members of the Hellfire Club, Robert and Charlotte must work together to reveal the villain…and confront their true passion for each other.
The Temptation of the Night Jasmine
by Lauren Willig
Publication Date: January 22, 2009
Hardcover: 400 pages
Publisher: Dutton Adult
ISBN-10: 0525950966
ISBN-13: 9780525950967