About the Book
About the Book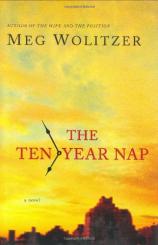 From the bestselling author of The Wife and The Position, a feverishly smart novel about female ambition, money, class, motherhood, and marriage --- and what happens in one community when a group of educated women chooses not to work.
For a group of four New York friends, the past decade has been largely defined by marriage and motherhood. Educated and reared to believe that they would conquer the world, they then left jobs as corporate lawyers, investment bankers, and film scouts to stay home with their babies. What was meant to be a temporary leave of absence has lasted a decade. Now, at age forty, with the halcyon days of young motherhood behind them and without professions to define them, Amy, Jill, Roberta and Karen face a life that is not what they were brought up to expect but seems to be the one they have chosen.
But when Amy gets to know a charismatic and successful working mother of three who appears to have fulfilled the classic women's dream of having it all --- work, love, family-without having to give anything up, a lifetime's worth of concerns, both practical and existential, opens up. As Amy's obsession with this woman's bustling life grows, it forces the four friends to confront the choices they've made in opting out of their careers --- until a series of startling events shatters the peace and, for some of them, changes the landscape entirely.
Written in Meg Wolitzer's inimitable, glittering style, The Ten-Year Nap is wickedly observant, knowing, provocative, surprising, and always entertaining, as it explores the lives of these women with candor, wit, and generosity.
The Ten-year Nap
by Meg Wolitzer
Publication Date: March 27, 2008
Genres: Fiction
Hardcover: 351 pages
Publisher: Riverhead Hardcover
ISBN-10: 1594489785
ISBN-13: 9781594489785