About the Book
About the Book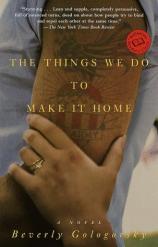 In this poignant and unforgettable novel, the fierce repercussions of the Vietnam War are captured from an altogether original and touching angle. This story belongs to the women: the lovers, wives, and daughters who saw their men returned safely to them--but as unfamiliar, haunted souls who would forever be out of their reach.
Remember the American Dream. Beautiful House. Children. The Suburbs. He's in one piece. Safe at home. Ignore the reality. His fear of sleep. The imaginary person he talks to. The pills. The booze. The car parked miles away from the driveway. . . .
An emotionally charged story of passionate love, unfulfilled desire, and an American dream gone terribly awry, The Things We Do to Make It Home is a powerful portrayal of six women struggling to salvage their homes and their families while discovering the limits of devotion to help those they love. Though inviting comparisons to the work of Tim O'Brien and Bobbie Ann Mason, The Things We Do to Make It Home illuminates--in its own unique and unadorned style--the destructive effects of war on those who served and those who waited behind.
The Things We Do to Make It Home
by Beverly Gologorsky
Publication Date: January 4, 2000
Paperback: 240 pages
Publisher: Ballantine Books
ISBN-10: 0345428021
ISBN-13: 9780345428028