About the Book
About the Book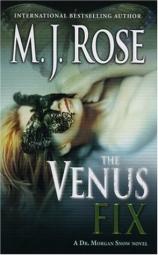 International bestselling author M. J. Rose returns with the third thrilling book in her Butterfield Institute series featuring sex therapist/reluctant crime solver Dr. Morgan Snow. The Venus Fix follows Dr. Snow as she strives to make the connection between murdered online Web cam sex performers and her clients.
As one of New York's top sex therapists, Dr. Morgan Snow sees everything from the abused to the depraved. From high-profile clients with twisted obsessions to courageous survivors, the Butterfield Institute is the sanctuary to heal battered souls.
Morgan's newest patient is a powerful, influential man --- secretly addicted to watching Internet Web cam pornography. But he's not alone in those desires. Morgan's also working with a group of high school teenagers equally and dangerously obsessed with these real-time fantasies. Fantasies that are all too accessible.
Then the women start dying online, right in front of their eyes. Now it's all about murder.