About the Book
About the Book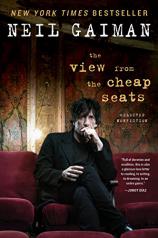 An enthralling collection of nonfiction pieces on myriad topics--- from art and artists to dreams, myths, and memoriesto comics, films, and literature--- observed in award-winning #1 New York Times bestselling author Neil Gaiman's probing, amusing and distinctive style.
An inquisitive observer, thoughtful commentator and assiduous craftsman, Neil Gaiman has long been celebrated for the sharp intellect and startling imagination that informs his fiction. Now, THE VIEW FROM THE CHEAP SEATS brings together, for the first time ever, more than 60 works of his outstanding nonfiction on topics and people close to his heart.
As Neil explains, "This book is not 'the complete nonfiction of Neil Gaiman.' It is, instead, a motley bunch of speeches and articles, introductions and essays. Some of them are serious and some of them are frivolous and some of them are earnest and some of them I wrote to try and make people listen."
In prose analytical yet playful, erudite yet accessible, Neil explores a broad range of interests and topics, including (but not limited to): authors past and present; music; storytelling; comics; bookshops; travel; fairy tales; America; inspiration; libraries; ghosts; and the title piece, at turns touching and self-deprecating, which recounts his experiences at the 2010 Academy Awards in Hollywood.
Neil ponders the truth of fiction and the power of stories (and why we tell them), and offers his own profiles of and insights into writers who have influenced him, including C. S. Lewis, J. R. R. Tolkien, Ray Bradbury, Diana Wynne Jones, Stephen King, Rudyard Kipling, James Thurber and his dear friend, Terry Pratchett. He offers unlikely perspectives on subjects as diverse as The Bride of Frankenstein, "Doctor Who," Batman, Tori Amos, Lou Reed, They Might Be Giants and Amanda Palmer. And he includes a moving essay on the plight of Syrian refugees in a United Nations'camp in Jordan.
Illuminating and incisive, witty and wise, THE VIEW FROM THE CHEAP SEATS explores some of the issues, subjects and people that matter most to Neil Gaiman--- and offers a unique glimpse into the mind of one of the most beloved and influential writers of our time.
The View from the Cheap Seats: Selected Nonfiction
by Neil Gaiman
Publication Date: May 16, 2017
Genres: Essays, Nonfiction
Paperback: 544 pages
Publisher: William Morrow Paperbacks
ISBN-10: 0062262270
ISBN-13: 9780062262271