About the Book
About the Book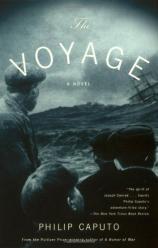 In the tradition of great seafaring adventures, The Voyage is an intricately plotted, superbly detailed, and gripping story of adventure and courage. Pulitzer Prize-winning author Philip Caputo has written a timeless novel about the dangerous reverberating effects of long held family secrets.
On a June morning in 1901, Cyrus Braithwaite orders his three sons to set sail from their Maine home aboard the family's forty-six-foot schooner and not return until September. Though confused and hurt by their father's cold-blooded actions, the three brothers soon rise to the occasion and embark on a breathtakingly perilous journey down the East Coast, headed for the Florida Keys.
Almost one hundred years later, Cyrus's great-granddaughter Sybil sets out to uncover the events that transpired on the voyage. Her discoveries about the Braithwaite family and the America they lived in unfolds into a stunning tale of intrigue, murder, lies and deceit.
The Voyage
by Philip Caputo
Publication Date: November 14, 2000
Paperback: 415 pages
Publisher: Vintage
ISBN-10: 0679768394
ISBN-13: 9780679768395