About the Book
About the Book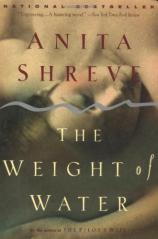 "I wonder this: If you take a woman and push her to the edge, how will she behave?" The question is posed by Jean, a photographer, who in 1995 arrives on Smuttynose Island, off the coast of Maine, to research a century-old crime. As she immerses herself in the details of the case-a fit of passion that resulted in the deaths of two women-Jean herself becomes caught in the grip of an intense emotion.
The suspicion that her husband is having an affair burgeons into jealousy and distrust, and ultimately propels Jean to the verge of actions she had not known herself capable of-actions with horrific consequences.
In a novel everywhere hailed for its beauty and power, Anita Shreve takes us on an unforgettable journey through the farthest extremes of emotion.
Shreve learned about the Smuttynose murders in 1973, while on a sailing trip with her family. During this trip, she visited the Isles of Shoals, a small group of islands off the coast of New Hampshire. Shreve was struck by the islands' beauty and intrigued by the enduring power of the lore and legend surrounding the century-old crime. Soon, Shreve began writing about the murders—as fiction. In 1975 "Silence at Smuttynose," Shreve's story based loosely on the murders, was published in Cimarron Review. Twenty years (and four novels) later, Shreve again reread "Silence at Smuttynose" and realized she wasn't quite finished with the story. She resumed her research on the case, studying the transcript of the trial to find out the facts as they were recorded.
In creating The Weight of Water, Shreve carefully wove the historical story with the fictional one, though, she maintains "the heart of the book has almost nothing to do with the facts." Rather, she used the historical record as a springboard for a larger story that explores the consequences of pushing a woman to the edge. Shreve says she was not the first to question the outcome of the murder trial, but she found it "a very hard book to write" because ultimately she intended for the reader to have sympathy for the women of Smuttynose.
Debate about the identity of the Smuttynose murderer continues to this day, rekindled by the publication of The Weight of Water. "The facts are out there for speculation," Shreve says, "The book is something separate from that debate."
The Weight of Water
by Anita Shreve
Publication Date: January 7, 1998
Paperback: 288 pages
Publisher: Back Bay Books
ISBN-10: 0316780375
ISBN-13: 9780316780377