About the Book
About the Book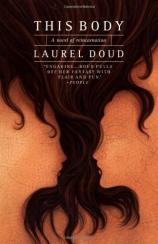 What if you had life to live over again...
What if you were young...
What if you were skinny...
What if you were beautiful...
What if you had a second chance to find true love...
But it wasn't your life?
The arms are pale, thin but shapely, the long fingers tipped with ragged nails. Dancer's hands even she can make them pirouette like butterflies. She looks down, and the almost nonexistent breasts with the very dark nipples are not hers. The flat--nay, concave--stomach, the thin thighs, the knees are not hers. She stumbles into the bathroom, closes the medicine cabinet door, and stares at the reflection in the mirror.
The face, the hair, the eyes, are not hers. This is not Katharine.
Katharine Ashley, dutiful wife and mother of two troublesome teenagers, dies in her sleep one night and wakes up a year later on the floor of a strange bathroom in a strange city--in a stranger's body. This body she now inhabits is young, single, and skinny. But Katharine has inherited not only Thisby Bennet's lovely body but also her drug addiction, her abusive boyfriend, and the family she has disappointed and alienated for years.
Katharine decides that before she can return to her own family, she must make reparations for Thisby's past behavior. She kicks Thisby's habit and reconciles with the Bennets--but does so with deceptive ease, obscuring the fact that she has more in common with Thisby than her body, that it wasn't just Thisby's life that was awry and needed to be set straight.
A delightful act of literary ventriloquism, This Body is also a deeply wise, deeply resonant novel about the love between parents and their children, the tricky relationship between the body and the mind, and the never-ending battle for self-knowledge we all engage in, each with varying degrees of success.
This Body
by Laurel Doud
Publication Date: February 8, 2000
Paperback: 304 pages
Publisher: Back Bay Books
ISBN-10: 0316196614
ISBN-13: 9780316196611