About the Book
About the Book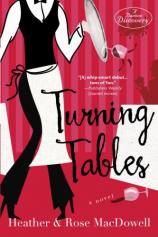 Downsized from her boutique firm, Erin panics as she watches her career ambitions plunge into free fall. Why else would the savvy twenty-eight-year-old take a job as…a waitress? A favorable word from a family friend gets Erin in the door at Roulette, Madison Avenue's newest exclusive haunt and home to a celebrity chef with a talent for cutting-edge cuisine and spotting the weakest link.
Life behind the apron is even worse than she imagined–from mangling orders to overimbibing at a wine seminar, Erin finds herself in hot water with the egomaniacal chef and the owner's outrageous wife. And then there's the dismissive, surly clientele, all but Daniel Fratelli, a flirtatious TV news producer. Is Daniel really as down-to-earth as he seems? Or will he eventually succumb to one of the many glamorous uptown girls in his own social circle?
Determined to prove that she won't crack under pressure, Erin begins to master the art of waitressing–becoming part shrink, part slave, and part foie gras hustler. But her continuing series of disastrous missteps quickly sends her right back to the bottom of the food chain. Forced to prove her commitment by organizing the storage area and alphabetizing produce after hours, Erin wonders if she'll ever make it back to the real world. But with a little help from her quirky best friend, she comes up with an idea that might take her life in a whole new direction–and that's just the first course….
Turning Tables
by Heather MacDowell and Rose MacDowell
Publication Date: March 24, 2009
Paperback: 336 pages
Publisher: Bantam Discovery
ISBN-10: 0385338554
ISBN-13: 9780385338554