About the Book
About the Book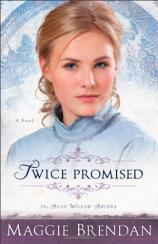 Two beautiful brides. One unsuspecting groom. Three weeks to figure it all out.
Greta Olsen arrives in Central City, Colorado, as a mail-order bride, expecting to marry Jess Gifford, the man she's come to know through his tender letters. But when she meets Cora Johnson, she discovers she's not the only bride waiting at the train station for Jess.
Already shocked to find they must compete for Jess's affection, the young women can hardly believe it when not Jess but his brother Zach picks them up from the station --- and reveals that Jess knows nothing about any mail-order bride, let alone two. Will either bride make the match she hopes for?
Filled with surprises, misunderstandings and tender romance, TWICE PROMISED is the story of how two unlikely women become twice blessed.
Twice Promised: The Blue Willow Brides, Book 2
by Maggie Brendan
Publication Date: October 1, 2012
Paperback: 332 pages
Publisher: Revell
ISBN-10: 0800734637
ISBN-13: 9780800734633