About the Book
About the Book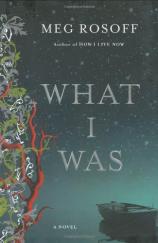 In the mid-twenty-first century, an elderly man named Hilary looks back through the decades to his days at St. Oswald's, a dreary English boarding school. Though the school and much of the coastline around it have since slipped into the sea, Hilary's memories of that time and place are vivid. A low-achiever kicked out of two previous schools, Hilary suspected that St. Oswald's, like the others, would offer nothing more than bourgeois manners and gory lessons from the Dark Ages. Surviving its rigid routines and joyless days would be a matter of will. When he encounters a strange young boy named Finn, however, everything changes. Hilary is immediately fascinated with Finn's solo life in an ancient hut by the sea, free of rules, family obligations and the indignities Hilary routinely suffers at the hands of his schoolmates. Finn is not just free—he is practically living in another era. He fishes and kayaks, reads history books, and cooks his own meals. Finn, who has no hospital or school records, does not exist to the rest of the world. To Hilary, he is the center of the universe.
The two boys develop an unusual friendship, with Hilary risking his school career to sneak away to Finn's hut whenever possible. Hilary does everything he can to protect his secret life, even when it means hurting the one schoolmate who seems to like him. In his refuge from St. Oswald's, he learns survival skills, and for the first time, the adult responsibilities that come with caring about someone else.
Precarious as the coastline itself, Hilary's fantasy world cannot last. His lies to teachers and students eventually catch up with him. The vast differences between Hilary and Finn --- less perceptible in the hut than in the outside world --- ultimately tear them apart.
Meg Rosoff's third novel enchants readers with its lyrical prose, engaging storytelling, and profound insight. An astute observer of the human heart, Rosoff captures the rush and the cruelty of adolescent desire and the imprint it leaves on a person. What I Was is an unusual coming-of-age story that examines the fluidity of identity and the ways in which people consciously redefine themselves in the face of love.
What I Was
by Meg Rosoff
Publication Date: January 24, 2008
Genres: Fiction
Hardcover: 209 pages
Publisher: Viking Adult
ISBN-10: 0670018449
ISBN-13: 9780670018444