About the Book
About the Book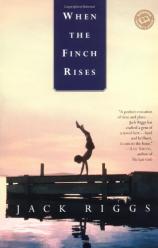 When the Finch Rises is the debut novel of an author whose work will be read as classic literature for a long time to come. It is a story full of truths and revelations, transcending its fictional bounds to become something so real and so finely wrought that it will simply astonish. Jack Riggs has created an emotional testament to the myriad shades of the human condition.
It is the late 1960s in the small North Carolina mill town of Ellenton. Twelve-year-old Raybert Williams and his best friend Palmer Conroy live in cramped homes in a working-class neighborhood, but they use the vast outdoors as their personal playground. Yet hardships are never far away. Raybert's father disappears for days at a time, only to come home broken and battered. Raybert's mother is a loving woman who battles her own demons while struggling to keep it all together. Palmer's family life offers no better refuge for the adventure-seeking boys.
But Raybert and Palmer have each other. And in that glorious friendship, they are significantly blessed. They dream together of space flight and moonwalks. They construct a bike jump to rival Evel Knievel's–and they'll run it once they work up the courage. Knievel tempted fate and won, taking a leap over twenty buses on faith alone, soaring high and landing safely, even after many crashes and broken bones. Palmer and Raybert have their own plan that, once executed, will take them all the way to the ocean, landing them intact and together on the other side of freedom.
Through the scrim of adolescence and poverty, Jack Riggs offers a glimpse of universal human foibles and singular moments of transcendence. Fiercely honest and beautifully narrated, When the Finch Rises flashes like the sharp rim of the eclipsed moon on the night when Raybert and Palmer's fate is finally revealed.
When the Finch Rises: A Novel
by Jack Riggs
Publication Date: August 31, 2004
Paperback: 272 pages
Publisher: Ballantine Books
ISBN-10: 0345468198
ISBN-13: 9780345468192