About the Book
About the Book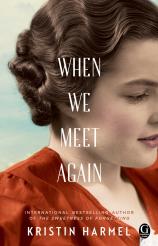 Emily Lyons has been laid off from her investigative reporting job and finds herself at loose ends, in a dead-end relationship and without the high-pressure career she loved. Into that void steps someone she thought she'd never hear from again, her estranged father --- and he needs her help.
Emily's not much interested in helping her deadbeat dad, but he swears he's changed his ways --- and to prove it, he wants her to help him track down his own father, who disappeared after the war. Dad always assumed Peter had abandoned him and his mother, until the day he receives a beautiful, haunting painting of a young woman standing at the edge of a field under a violet sky. That woman is recognizable as his mother --- and the painting arrived with no identification other than a handwritten note saying, "I always loved her."
Despite her misgivings, Emily is hungry for roots and family, so she begins to dig. And as she does, she uncovers a fascinating era in American history. Her trail leads her to the POW internment camps of Georgia and Florida, where German prisoners worked for American farmers...and sometimes fell in love with American women. But how does this all connect to the painting? If Emily finds the answer to that question, she may discover more than she ever imagined....
Harmel's trademark emotional storytelling is once again on display, married to a fascinating story that has its roots in our nation's postwar history.
When We Meet Again
by Kristin Harmel
Publication Date: June 7, 2016
Genres: Fiction
Paperback: 384 pages
Publisher: Gallery Books
ISBN-10: 1476754160
ISBN-13: 9781476754161