About the Book
About the Book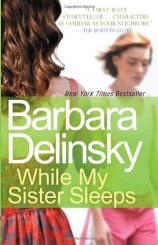 A master storyteller, bestselling author Barbara Delinsky has captivated millions of readers worldwide with her emotionally powerful novels. While My Sister Sleeps takes the intensity to new heights. This is the story of a family forced to confront difficult truths, while finding the courage to love each other enough to let go.
Molly and Robin Snow, sisters who are incredibly close yet incredibly different, are in the prime of life. Robin has always been the hard-working star, an elite marathoner in peak condition, even training for the upcoming Olympic trials. She relies on Molly in countless ways, though Molly must also maintain long hours at the family business, a plant and tree nursery.
When Robin suffers a massive heart attack, the roles are reversed, and Molly finds herself having to be the one in the spotlight, speaking up on behalf of her sister. Though the doctors don't expect Robin to recover, her mother is not willing to accept such a grim prognosis. As she tries to deny Robin's fate, the discovery of a hidden journal forces her to confront reality --- and the lifetime of secrets that kept the Snows from truly connecting as a family.
Raising provocative questions about family ties, repercussions of the past, and the toughest choices a parent could ever have to make, While My Sister Sleeps is a novel that will give you much to discuss.
While My Sister Sleeps
by Barbara Delinsky
Publication Date: October 27, 2009
Genres: Fiction
Paperback: 384 pages
Publisher: Anchor
ISBN-10: 0767928954
ISBN-13: 9780767928953