About the Book
About the Book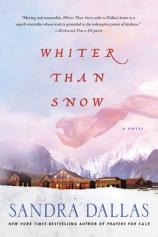 WHITER THAN SNOW opens in 1920, on a spring afternoon in Swandyke, a small town near Colorado's Tenmile Range. Just moments after four o'clock, a large split of snow separates from Jubilee Mountain high above the tiny hamlet and hurtles down the rocky slope, enveloping everything in its path including nine young children who are walking home from school. But only four children survive. WHITER THAN SNOW takes you into the lives of each of these families: There's Lucy and Dolly Patch --- two sisters, long estranged by a shocking betrayal. Joe Cobb, Swandyke's only black resident, whose love for his daughter Jane forces him to flee Alabama. There's Grace Foote, who hides secrets and scandal that belies her genteel façade. And Minder Evans, a civil war veteran who considers his cowardice his greatest sin. Finally, there's Essie Snowball, born Esther Schnable to conservative Jewish parents, but who now works as a prostitute and hides her child's parentage from all the world.
Ultimately, each story serves as an allegory to the greater theme of the novel by echoing that fate, chance, and perhaps even divine providence, are all woven into the fabric of everyday life. And it's through each character's defining moment in his or her past that the reader understands how each child has become its parent's purpose for living. In the end, it's a novel of forgiveness, redemption, survival, faith and family.
WHITER THAN SNOW © Copyright 2011 by Sandra Dallas. Reprinted with permission by St. Martin's Griffin. All rights reserved.
Whiter Than Snow
by Sandra Dallas
Publication Date: March 1, 2011
Genres: Fiction, Historical Fiction
Paperback: 320 pages
Publisher: St. Martin's Griffin
ISBN-10: 0312663161
ISBN-13: 9780312663162