About the Book
About the Book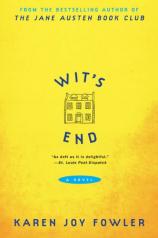 From the author of the runaway bestseller The Jane Austen Book Clubcomes a sly and clever novel of mystery, intrigue, and virtual reality.
Set in contemporary Santa Cruz, Wit's End opens as Rima Lanisell arrives at her godmother's old Victorian mansion, weary from her recent losses --- an inventive if at times irritating father, a beloved brother. (Indeed, Rima seems to lose people and things habitually --- sunglasses and keys, lovers and family members.) At loose ends, she has come to coastal California to regroup and to meet that legendary godmother. She soon finds herself enmeshed in a household of eccentrics: a formerly alcoholic cook and her irksome son, two quirky dog-walkers, a mysterious stalker, and of course, godmother Addison Early, a secretive and feisty bestselling mystery writer who once knew Rima's father well. Perhaps too well. Rima is on a mission to discover just what their relationship was all about.
That won't be easy. Over the years, Addison has fought fiercely to protect her work and her privacy, even as her passionate fans have become ever more intrusive. In this age of the Internet, with its blogs, chat rooms, and websites, its Wikipedia, false personas, and hidden identities, those fans have begun to take over her plotlines and the life of her famous fictional detective. For many of those fans, Maxwell Lane is more real than Addison herself. So Wit's End is also a highly original take on the way dedicated readers appropriate their favorite books, perhaps the one act of theft applauded the world over --- except by authors. Word has it that Addison is so beleaguered, so distracted by her fans' Web postings that she has writers block.
Traveling back into the past, firmly rooted in the present, Wit's End is storytelling at its best. It is also Karen Joy Fowler at her most subversive and witty, creating characters both oddball and endearing in a voice that is utterly and memorably her own.
Wit's End
by Karen Joy Fowler
Publication Date: April 28, 2009
Genres: Fiction
Paperback: 336 pages
Publisher: Plume
ISBN-10: 0452290066
ISBN-13: 9780452290068