About the Book
About the Book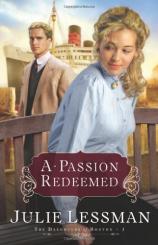 No man can resist her charms. Or so she thought.
Charity O'Connor is a woman who gets what she wants. Her stunning beauty and flirtatious ways have always succeeded with men. Until Mitch Dennehy, that is. Brilliant and dangerously handsome, Mitch is a no-nonsense newspaperman who wants nothing to do with her. Charity burned him once, destroying his engagement to the only woman he ever truly loved. He won't play with matches again. But Charity has a plan to turn up the heat, hoping to ignite the heart of the man she loves. And she always gets what she wants --- one way or another.
Or does she? Will her best-laid schemes win his love? Or will her seductive ways drive him away forever?
Book 2 in the Daughters of Boston series, A Passion Redeemed will captivate your heart and stir your soul with a story of faith and redemption rising from the ashes of temptation, desire, and shame.