About the Book
About the Book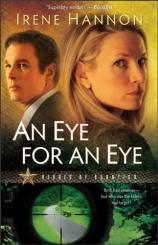 Can their relationship survive a killer with vengeance in his heart?
After an accidental shooting during a tense standoff, FBI Hostage Rescue Team member Mark Sanders is sent to St. Louis to work as a field agent and get his bearings while the bad press settles. Just weeks away from returning to Quantico, Mark has a chance encounter with his first love, Emily Lawson. But their reunion is cut short by a sniper. Now Mark must find the shooter before he strikes again. But what is his motive --- and who was his intended target? Can Mark put the pieces together, keep Emily safe, and rekindle a relationship at the same time?
A fast-paced tale of romance, suspense, and intrigue, An Eye for an Eye is the exciting second book in the Heroes of Quantico series.
An Eye for an Eye: Heroes of Quantico Series, Book 2
by Irene Hannon
Publication Date: September 1, 2009
Genres: Christian
Paperback: 304 pages
Publisher: Revell
ISBN-10: 0800733118
ISBN-13: 9780800733117