About the Book
About the Book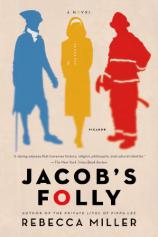 JACOB'S FOLLY is a rollicking, ingenious, saucy book, brimful of sparkling, unexpected characters, that takes on desire, faith, love, acting --- and reincarnation.
In 18th-century Paris, Jacob Cerf is a Jew, a peddler of knives, saltcellars and snuffboxes. Despite a disastrous teenage marriage, he is determined to raise himself up in life, by whatever means he can. More than 200 years later, Jacob is amazed to find himself reincarnated as a fly in the Long Island suburbs of 21st-century America, his new life twisted in ways he could never have imagined. But even the tiniest of insects can influence the turning of the world, and thanks to his arrival, the lives of a reliable volunteer fireman and a young Orthodox Jewish woman nursing a secret ambition will never be the same.
Through the unique lens of Jacob's consciousness, Rebecca Miller explores change in all its different guises --- personal, spiritual, literal. The hold of the past on the present, the power of private hopes and dreams, the collision of fate and free will: Miller's world --- which is our own, transfigured by her clear gaze and by her sharp, surprising wit --- comes brilliantly to life in the pages of this profoundly original novel.