About the Book
About the Book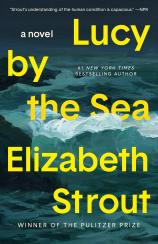 From Pulitzer Prize–winning, #1 New York Times bestselling author Elizabeth Strout comes a poignant, pitch-perfect novel about a divorced couple stuck together during lockdown --- and the love, loss, despair and hope that animate us even as the world seems to be falling apart.
With her trademark spare, crystalline prose --- a voice infused with "intimate, fragile, desperate humanness" (The Washington Post) --- Elizabeth Strout turns her exquisitely tuned eye to the inner workings of the human heart, following the indomitable heroine of MY NAME IS LUCY BARTON through the early days of the pandemic.
As a panicked world goes into lockdown, Lucy Barton is uprooted from her life in Manhattan and bundled away to a small town in Maine by her ex-husband and on-again, off-again friend, William. For the next several months, it's just Lucy, William and their complex past together in a little house nestled against the moody, swirling sea.
Rich with empathy and emotion, LUCY BY THE SEA vividly captures the fear and struggles that come with isolation, as well as the hope, peace and possibilities that those long, quiet days can inspire. At the heart of this story are the deep human connections that unite us even when we're apart --- the pain of a beloved daughter's suffering, the emptiness that comes from the death of a loved one, the promise of a new friendship, and the comfort of an old, enduring love.
Lucy by the Sea
by Elizabeth Strout
Publication Date: September 12, 2023
Genres: Fiction
Paperback: 304 pages
Publisher: Random House Trade Paperbacks
ISBN-10: 0593446089
ISBN-13: 9780593446089